Less Paper Office
This was originally written in May 2021 for the Hemispheric Newsletter as part of One Prime Plus for the Hemispheric Views podcast.
The Paperless Office™ has been long promised and never delivered. As with just about everything in life, absolutes are rare. Rather than trying to pursue this idea of The Paperless Office, I strive for what I call "The Less Paper Office." Some stuff needs to be physical, and that's fine, the vast majority, however, does not. Enter a relatively simple system I have put in place to accomplish a few key things:
Reduce the number of paper documents we have to store in our house.
Increase the likelihood that we can find a document when it is needed.
Reduce the risk of document damage or loss.
Improve the security of our documents.
So how do I do it? Here we go!
Here is a flowchart that shows the steps that each piece of paper goes through when it enters the house.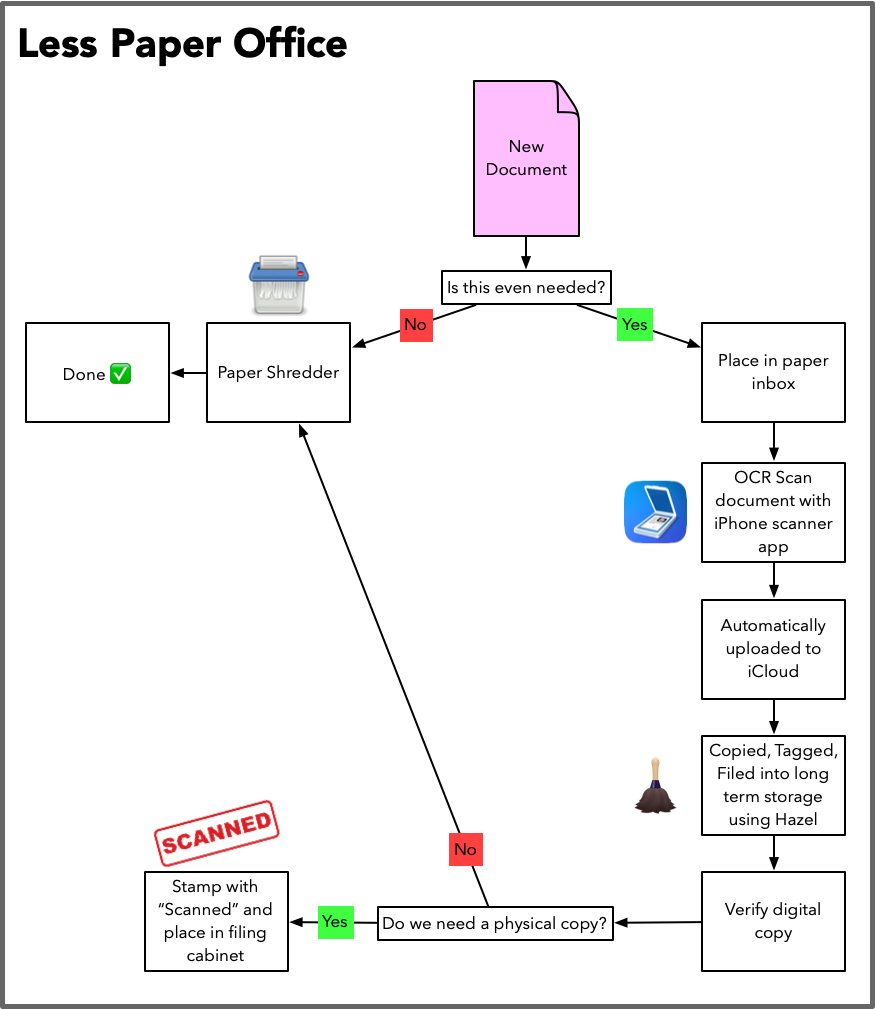 The nice thing about this system is that the apps are, for the most part, interchangeable to fit whatever devices you use. In this example, I am using Scanner Pro, but not too long ago I had been using SwiftScan (RIP Scanbot). The important thing is capturing the documents, not the apps you use to do it. My only caveat would be to ensure the app you are using is capturing good quality, high-resolution scans, and is performing OCR to aid in searching later. I didn't mention traditional flatbed scanners, or fancier feeding scanners simply because I don't use them and the speed and reliability of using my phone makes this whole process almost no effort so I know it will get done.
I hope this has given you somewhere to start if you were looking to reduce paper in your life. Do you do some of this, or all of it already? If you had tried something in the past and given up due to complexity, give this a go and see if it sticks!