How I Craft.
This was originally written in October 2021 for the Hemispheric Newsletter as part of One Prime Plus for the Hemispheric Views podcast.
Let's not pretend like this is the first time you have heard me go on about Craft. I am not here to sell you on it, convert you to the ways of Craft, or even tell you why it's better than whatever you are already using. I am just going to give a look inside how I organize stuff within it so that it may be of some service to someone who has used Craft, is thinking about using it, or wants some more input on how to perhaps better organize things within the system they are already using.
Getting Stuff Into Craft 📥
Getting stuff into Craft seems like a good place to start. Like a lot of apps that capture information, there are multiple ways to get info into the system and Craft is no different. I generally pull / push information into Craft in one of three ways.
Original authoring within the application. This can be text or other content like images.
Sending to Craft from Drafts.
System Share Sheet within other applications.
Organizing It All 🗂
Craft has an organizational feature called Spaces. These spaces all live within the Craft interface and are a way to silo information into separate buckets. Think of this as a way to logically sort various parts of your life while still having access to everything within one environment. You can do something similar with folders all within a single Space, but that will depend on each person and what they prefer. I manage all my info across several Spaces.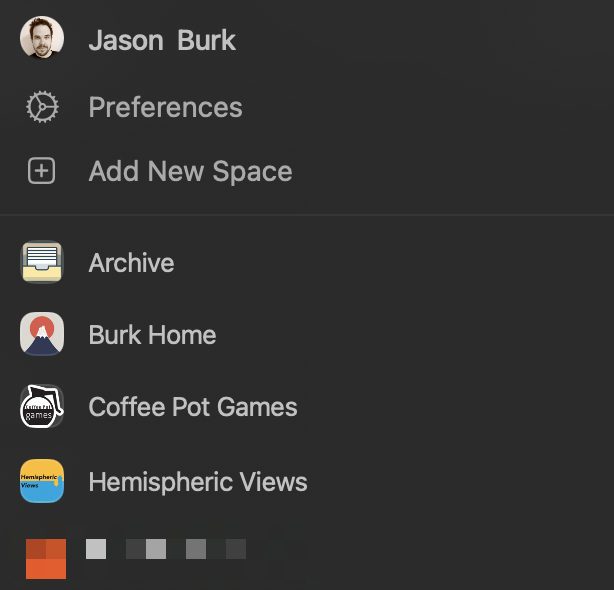 Spaces
Jason Burk

My personal notes and stuff I am working on.

Archive

Once a note has lived its life and is no longer useful I move it to an archive space. This gets it out of my general working on stuff area, but leaves it available on the off chance I need to reference it. I could just export these and let them live in cold storage, but this is a nice compromise that adds some convenience.

Burk Home

This is a shared space with my wife where we keep all stuff related to home life. Our 'home wiki' lives in here.

Coffee Pot Games

Anything to do with the board games I am working on goes in this space.

Hemispheric Views

A shared space between Andrew, Martin, and myself. All show related stuff goes in here. Show notes start out here, a running topic pool, and any other info related to the Hemispheric Views Empire.

"Work"

This is all notes related to my work at NAME REDACTED. Being able to keep all my research, daily interactions, meeting stuff, and whatever else in a nice clean and searchable space is wonderful. I use the Secret Link feature (more on this below) at work a good bit as well so I can create dashboards for others to easily view and get info from. It beats the hell out of SharePoint.
Getting Stuff Out of Craft 📤
Craft has a number of ways to export content for use in different ways.
Share

Secret Link

This allows you to create a shareable link of your note so others with the link can view the contents of your note but not edit it. The content will update for them as you make changes. You can revoke the link as well at any time to remove it from being publicly viewable.

Send as Email

Allows you to send a copy of the note content via your local email client or Gmail.

Export

PDF
Image
Markdown (I use this one all the time)
Textbundle (I use this for exporting all notes as backup, see below)
MS Word .docx
Copy Deeplink (This is great for adding a link to another note or a specific place within a note)
Print

Send To (These will be active or disabled based on what you have installed on your system)

Drafts
Things (This is great if you add some tasks to a note while talking with someone. Simply select them, send to Things, and those tasks are now created in Things!)
DevonThink
OmniFocus
iA Writer
Ulysses
Bear
Day One
NotePlan
Backup, Backup, Backup 📦
Backup is critical when it comes to storing your information. I like that Craft has multiple options for exporting documents. Here is what I do for exports.
Repeat for each space 🔁
Export all documents as Textbundle. This feels like the most universal output for long term storage.
Collect all exported folders into a dated folder.
I store the most recent 3 backup folders in iCloud Drive, and roll the oldest ones off into 'cold storage'.
Now that I have typed this all out, it feels way more complex, but it really isn't! Again, whether you use Craft or not, maybe something in here will trigger a part of your brain that will help you with another system you are using perhaps. Craft keeps growing and refining what it is and I am very happy with the direction this ship is sailing. ⛵️
A few other public "Secret Links" as examples of what it can be used for