Brydge Keyboard - iPad Pro 12.9 (2018)
Ordered: 2019-01-08
Received: 2019-05-11
Price: $169.99 + $7.99 (shipping) + $12.32 (tax) = $190.30
Here it is, the Brydge Keyboard for the 2018 iPad Pro 12.9"!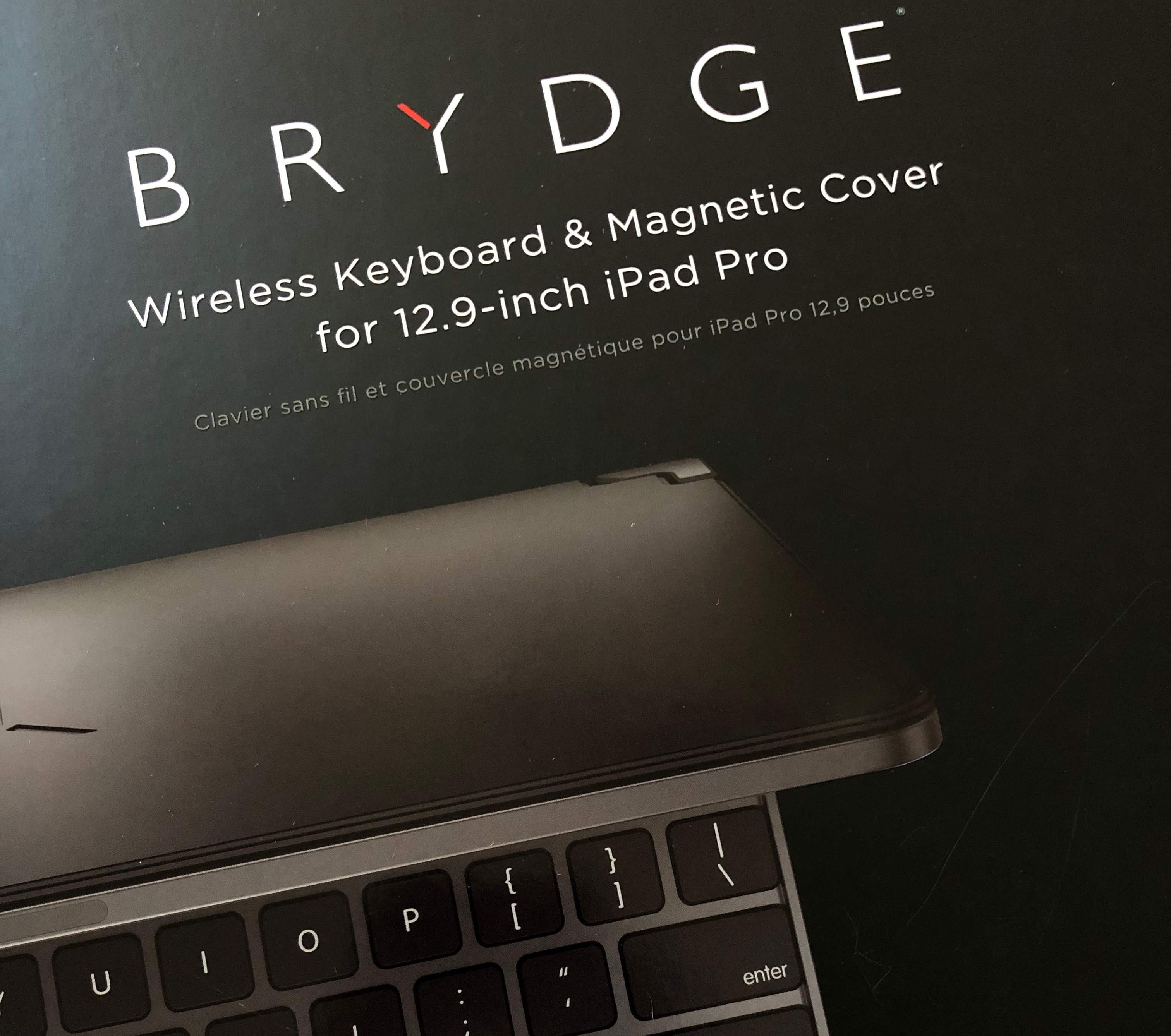 Typing On It
At first, I thought the keys felt a little small, especially if you are used to typing on a MacBook Pro or Magic Keyboard. The keyboard area is the same physical size as the Magic Keyboard. I grabbed some digital calipers, and it turns out that the Brydge keys are actually slightly smaller at ~15.5mm wide. For comparison, the Magic Keyboard is ~16mm, and the MacBook Pro is more like ~17mm.
I am typing this whole thing on the Brydge so I will put something down below at the end on how that went.
Lap Typing
Typing on your lap feels much like a MacBook. There are two things I would mention here.
It's pretty narrow, mainly if you are used to a 15" MacBook Pro.
The hinges stick out a good bit so they poke you in the legs/knees, which can be kind of annoying over time.
Touching The Screen
It has a little bit of wobble. Not enough to make it not useable, but it's there. I knew it would be since there really isn't a reasonable way to engineer something like this as a third party and have it not wobble a bit.
This may go away over time, but I do find myself using my left hand to grab the edge of the screen while I touch it with my right hand some of the time.
You can set it at any angle which is excellent compared to other keyboards that attach to the iPad.
This sounds weird, but it looks too much like a MacBook now... Why is that bad? Well, I am continually trying to use the trackpad that is not anywhere to be found. 🤦‍♂️ It's the opposite problem I have on my MacBook Pro when I try to touch the screen.
Removing The Keyboard
This is an area where the Smart Keyboard wins. You basically just have to rip it off (magnets), and you are done. This one takes a little more dedication to remove the iPad from the corner hinges, and then fold them each back down so you can store it in a bag. Then to put it back on, you fold them out and try to align them to be even so you can put the iPad back in. It's a little fiddly, but not that bad.

I have a small concern when picking it up. If you close it, and then pick it up like a laptop to carry with you, in your hand, under your arm, there is a pretty good sized gap between the keyboard and iPad. If you squeeze with your hand to make sure you have a good hold on it, you are bending your iPad and keyboard toward each other. This is not a problem if you hold it by the non-hinge edge.
Special Buttons
Home Button - I have become very accustomed to hitting Command+H on the iPad, but this keyboard has a dedicated button for home which is pretty neat. Hit it once to go to your home screen, and twice to go into the window switcher mode.
Lock Button - Simple one tap to lock screen. Same as reaching up to press the power button, but a nice little touch that adds convenience.
Battery Life Indicator - Since this has its own battery, it is nice to have a quick way to see what the battery life is at any time. Although, if you use the battery widget in iOS anyway, you can see it there as well.
Siri Button - If you are a big Siri or dictation user, having a dedicated key will be great.
Software keyboard - Sometimes you need things that only a software keyboard can provide. Instead of un-pairing your Bluetooth keyboard to access those features, you have a dedicated button to bounce back and forth.
Media Keys - Glorious media keys! Volume, screen brightness, audio playback controls, keyboard brightness.
LED Indicator
There is a single multi-color LED indicator light on the keyboard located within the power button. This light gives you indications for the power status of the unit, Bluetooth pairing, and battery life.
A single press of the power button will light green for ~3 seconds if powered on.
Holding the battery button for ~4 seconds will light the LED with the following conditions.

Green Flash x3 (75%-100%)
Yellow Flash x3 (25%-74%)
Red Flash x3 (10%-24%)

Hold the Bluetooth button down, and it will begin blinking blue when in pairing mode.
Magnetic Back Cover
It comes with a magnetic back cover also to add a bit of protection to the back of the iPad. It has notches in it to accommodate the keyboard hinges. I made a back cover for my iPad out of a Smart Cover so I could have just a back cover when setting my iPad down when using it in tablet mode. The one I made fits better in my opinion, but without the notches, it won't work well when using the keyboard.
So, how was it typing all this? Overall, it was good. It did take a bit of getting used to the key travel and layout. I had a ton of typos when I was starting the post, but it slowly went down as my fingers got used to the keys. Mostly I kept hitting media keys since I am not used to there being an extra row of stuff up at the top.
The biggest concern I have is adding yet another utterly different keyboard to my day-to-day. Including this one, I will use four different keyboards, and they all have a completely different feel. MacBook Pro, Magic Keyboard (Mac mini), Smart Keyboard Case (iPad Pro), and Brydge (iPad Pro).
If I had to rank them all right this second from favorite to least favorite, judging them strictly on how they feel when typing, it would come out like this (HUGE CAVEAT: I just got the Brydge!)
MacBook Pro
Magic Keyboard
Smart Keyboard Case
Brydge 12.9"
Now add in additional features offered, convenience, and things like use on your lap:
MacBook Pro
Brydge 12.9"
Smart Keyboard Case
Magic Keyboard
UPDATES
It seems the right shift key is no longer functioning...
I am starting to think there is maybe something wrong in general with this keyboard. The more I type, the more I think the unit is not picking up all my keystrokes. Not sure if this is actually a problem yet or just something with the way I type? It seems intermittent.
2019-05-24 Worked with CS over at Brydge to do some troubleshooting. My unit is going to be sent back via RMA to be replaced. Looking forward to getting the new unit!
2019-06-07 I got a replacement (open box) unit. It seems like the keys are working, but I have been using it for the last day or so and I don't know if it's the key mechanisms, or the way I type, or something else, but I still find many key strokes to be missing from my typing (only when I use the Brydge). I think, unfortunately, this keyboard is not going to work for me. This new unit also makes a popcorn crackle sound when picking it up that the original one did not? I really wanted it to work, but it's too much trouble to constantly have to fix missing characters in my writing.
I have submitted for a return of the keyboard.
2019-06-08 I got some info from the CEO of Brydge about some settings in accessibility to look at and disable. They have had some reports that this may be what I am experiencing. I have a phone call set up with him to discuss my issues further on Monday.

2019-06-24 I have returned the keyboard. Given all the issues I was having, it wasn't going to work for me to type on every day. I find the Smart Keybaord cover to be a much better input device for me. Not thrilled that I have to pay for return shipping and a "restocking fee", but it's better than just putting it in a drawer to never be used again.
I'll be sure to post updates on Micro.blog as I use it more each day.
Questions? Send them my way! I am happy to help any way I can.