I Love Suica
It's not new to say how great the subway system is throughout Tokyo. If you have used the system you are well aware. One specific thing makes traveling around as easy as it can possibly be, the Suica card. The Suica card is a contactless payment system that can be used in place of individual paper tickets at station entrance and exit gates. I didn't get one during our last trip to Tokyo, but this time I did, and it has been a game changer. Not only did I get the card, I added the card to my iPhone so I can just tap my phone and off I go.
You can get a "My Suica" card at any of the JR line stations. Look for a ticket kiosk that has a black header sign above it. After you enter a few pieces of information and then add money to the card, out pops a fresh new Suica card with your name on it!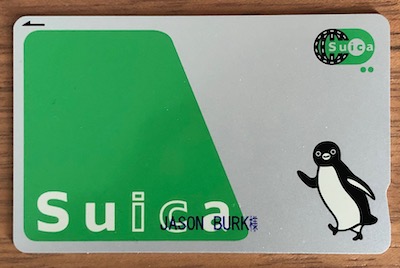 Once you have the card, you can now tap it at all stations when traveling throughout the subway system. You can even use the card to pay for items at many vendors and shops that accept the card for payments.
You can just use the card as is and you are good to go. You can also go one step further and add the card to your iPhone Wallet so you can simply tap your phone for payment. I highly recommend this as it means one less thing to carry around, and it's just neat!
Adding the card to your iPhone is easy, here is a quick overview of how to get it all setup.
Note: adding your card to your phone renders the plastic card inoperable
Change your phone region to "Japan". This only needs to be done to get the card initially added, afterwards you can change it back. Side Note: changing the region does not change the language of your phone. Settings > General > Language and Region.
Now you can go to your Apple Wallet and add the Suica transit card. It walks you through the setup.
Go check out your Apple Wallet and you now have a Suica Card in there!

Tapping on the card, and then the blue circle with the 3 dots will show you all the information about the card, and this is also where you can reload your card with Apple Pay. There is also a setting in here that allows you to set a notification for low balance which is a nice thing to have.

There is one more setting that I highly recommend turning on. This setting is called "Express Transit Card". When you set this to be your Suica card it allows you to tap your phone on the gates without the need for Face ID / Touch ID. You don't even have to have the screen on. It makes the whole process truly feel like magic. This can be setup in Settings > Wallet and Apple Pay > Transit Cards.

When you enter the subway by tapping your phone, you get a lock screen notification showing your balance and your status of "En Route".

Then when you leave the subway by tapping your phone again, you get another lock screen notification that shows you the trip cost, the starting and ending stops, and your updated balance.

There you have it! Even though the system has been around for quite a while, coming from the transit systems in the US, this feels so right!