What Podcasts Do You Listen To?
October 2015 Edition.
Podcasts are a huge part of my life. I listen to quite a few of them, and even try to keep myself on track to create my own on a somewhat regular basis. I have not been doing so great at that part, but will keep at it!
Every so often I like to ask everyone what podcasts they subscribe to so I can see what great content I am missing out there! Likewise, I like to post a quick list of my subscription list looks like also, in a hope to share something that others may not be aware of. So with that, on with the list!
(This list is always in flux, but here it is as of October 2015)
Drop me a line anytime regarding all things podcast!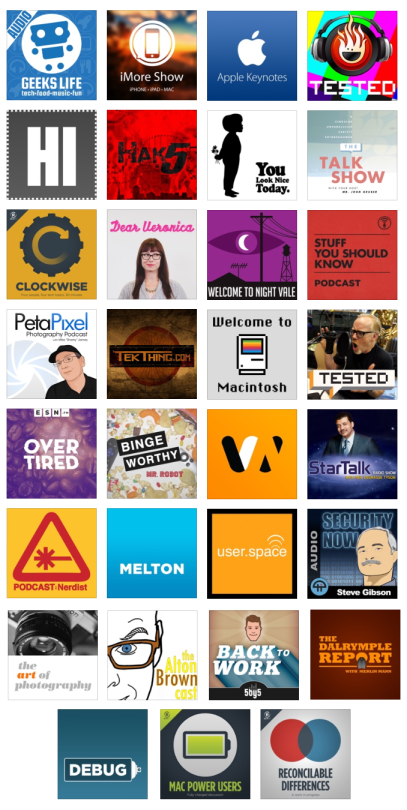 Geeks Life Podcast
iMore Show
Apple Keynotes
This is Only a Test
Hello Internet
Hak5
You Look Nice Today
The Talk Show With John Gruber
Clockwise
Dear Veronica
Welcome to Night Vale
Stuff You Should Know
PetaPixel Photography Podcast
TekThing
Welcome to Macintosh
Still Untitled: The Adam Savage Project
Overtired
Bingeworthy: Mr. Robot
WatchAware
StarTalk Radio
The Nerdist
Melton
User.Space Podcast
Security Now
The Art of Photography
The Alton Browncast
Back to Work
The Dalrymple Report
Debug
Mac Power Users
Reconcilable Differences