E.T. (i)Phone Home(screen)
Homescreen layouts come and go, and this is mostly true for my iPhone. It generally stays pretty static, but every once in a while I like to mix it up! So, what does it look like after the latest iOS update? Check out the screenshot below and reasoning for why each app has made it to the coveted homescreen.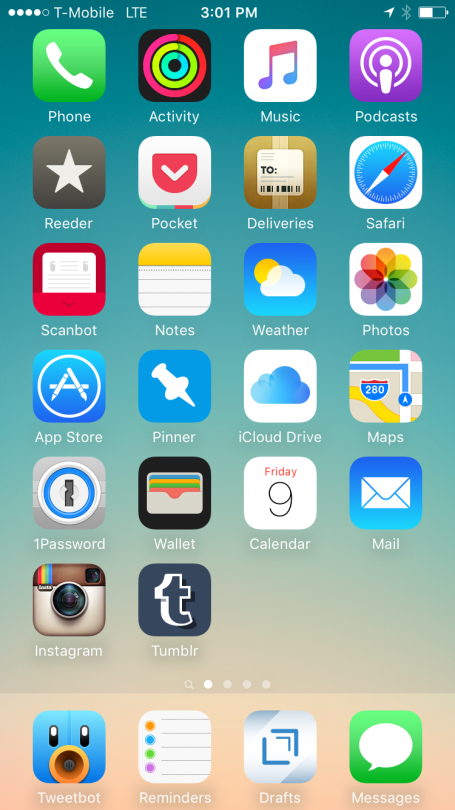 Phone I rarely make phone calls, but when I need to make a call or look up a contact, it's nice to have it close at hand.
Activity I am not even close to being as diligent about fitness as I need to be, but seeing this everyday helps to motivate me.
Music I don't listen to a ton of music, but having all possible music at my fingertips with Apple Music is awesome.
Podcasts Podcasts are crucial to my commute to work everyday. I have a pretty large list of shows on my list, both audio and video.
Reeder RSS is the ideal way for me to keep up with the stuff I care about. Reeder is still my go to for this. I now use NewsBlur as a backend.
Pocket I never have enough time to look at everything "right now", so Pocket is my main holding area for all things on the internet.
Deliveries I am not saying I have a problem, but I may have a problem with how much stuff I order from Amazon.
Safari It's the Internet! I use Safari on the Mac, this is perfect for keeping all my stuff in sync.
Scanbot I use this as my main scanner for everything that is made of paper. All paper is scanned, filed, and then shredded.
Notes See these two posts, I use Notes for all my note taking needs.
Weather Is it going to rain or be cold?
Photos I take a ton of photos, and store them all in iCloud Photo Library. I currently have 400GB+ up there and it is great! Having every single photo I have ever taken in a single searchable place on all my devices is a really sweet setup.
App Store I try out new apps all the time, so this keeps them only one step away.
Pinner I transitioned all my bookmarks over to Pinboard a while back to centralize them. I have been thinking about moving them all back into the browser though. The big key to using Pinboard is searchability.
iCloud Drive I dropped Dropbox (yep) a few months ago in favor of using my iCloud Drive storage that I already had because of storing all my photos there. It is not at feature parity with Dropbox yet, but takes care of the basic cloud storage needs I have.
Maps It never hurts to have some help when it comes to knowing where you are going.
1Password If you aren't using 1Password to manage all your logins and private information, you are crazy! Go buy it RIGHT NOW!
Wallet I absolutely love Apple Pay, and use Passbook whenever possible. I am moving more stuff to my virtual wallet every chance I get.
Calendar I am very reliant on my calendars. If it isn't on my calendar, I am probably not doing it.
Mail E-Mail is by no means my favorite way to communicate, but it's still widely used. I use my own IMAP server for personal mail, and Exchange at work,  so Mail it is. Mail does all I need from an E-mail client.
Instagram I recently started using Instagram again. I like the idea of a photo community like a Twitter for just photos.
Tumblr I am using Tumblr as my site platform now! Like Instagram, I like that Tumblr is more of a community than traditional platforms.
---
The Dock is of course a very special App location. There are only 4 spots (on the iPhone). No matter what screen you swipe to, these icons remain. Needless to say, this means whatever you place here is probably pretty special!
Tweetbot Twitter is my social network of choice. I have gone back and forth with clients, but the release of Tweetbot 4 landed this client back into my regular use, and my dock. The race was between Tweetbot updating their iPad app, or Twitterrific updating their Mac app.
Reminders Like a calendar, if a to-do is not in my reminders, it is not getting done. Crucial to my sanity.
Drafts When you need a place to put some text until you are ready to do something with it, Drafts is the best choice!
Messages Now that we don't use AIM or gChat anymore, iMessage and Texts are it!
You may have noticed that I use a lot of stock apps, check this post out for more on that.