ASUS Eee PC
The Eee PC or "Tiny Computer" as we like to call it, has been in use now for a couple months. Overall it has been a good computer for its intended purpose. What was its intended purpose? An inexpensive sub-notebook that you can take anywhere. Before I go on, let me start with some background. We started looking for one of these about 4 months ago. There was a lot of talk about different models, but at the time the only model available was the Eee PC. Then we started hearing news of others, namely the Everex Cloudbook. This was rumored to be sold at Wal Mart, but never was, only online. So we finally picked up an Eee PC in an actual store. Now on to the Pros and Cons. An no i am not going to bash it like the other morons who bought it to replace their 17" Desktop replacement laptop and can't figure out why it doesn't perform the same. I will instead rate it according to its intended purpose.
Pros:
Very small and portable
Usable keyboard
Webcam
Good sound
Upgradable RAM
Pretty standard PC hardware
HCSD Card compatible
Cool Factor / Geek Factor
Great for watching movies on the go
Cons:
The Xandors OS wasn't enough, so we put a full copy of Ubuntu on it. Much better.
The touchpad is pretty awful, the Cloubook's seems like a better idea for the form factor.
Only 4GB of HDD (does have the SD though).
Overall, its a pretty neat little computer. Again please don&'t get one and complain that it doesn't perform like a desktop, we're sick of hearing that. If you want a small computer than goes almost anywhere, for email, internet and the occasional movie, buy one of these instead of those lame portable DVD players.
*Side Note: Even though they seem to be marketing these to new computer users, they really are an enthusiast's gadget.
(There seems to be a HUGE market for these tiny inexpensive laptops, why the hell has no one cornered the market on these and reaped the $$$$$?)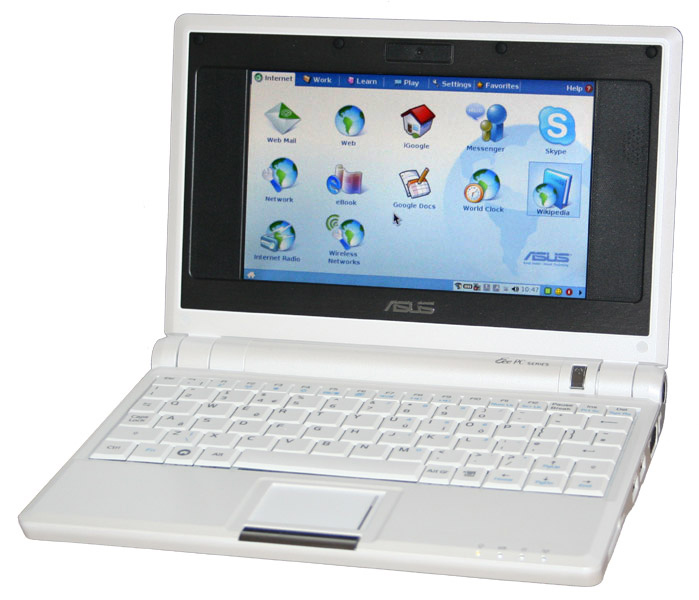 [rating:4]